So I've let my blog go. Things got busy and over time I honestly forgot I even had one. When I remembered, I toyed with the idea of working on it again. It was my last years resolution to work on it. Never happened. Same as this. If I get to publish this then it means I've finally put one foot in front of the other.
Where to start? Doing a quick reading over old posts brought me laughs. So much has changed since then. I felt myself cringing over some of the posts from being so embarrassed of even posting them. Not that they were horrible but it's like revisiting an old personal diary in a way and then leaving it out. I contemplated deleting all the old posts but I decided to just keep them there. To give me a reason to keep up with my blog now that I've found more time so I can see how far I've come and to share that with you!
Again, where to start. So much has changed! I've got a new laptop that I've been bad at transferring files to. My passion for fiber arts is still as strong as ever and my little hobby corner has turned into having my own studio room so to speak. I love it. Everything where it's supposed to be in one place. I can easily transition from spinning to felting to dyeing. No more digging in drawers for packing tape and a pen!
Here in PA the weather has been so cold. This time last year we were already mowing the lawn. The grass isn't even close to turning green yet. I have the gardening bug like crazy! I've bought some seed starting soil and my seeds already so I'm hoping to start them indoors soon. I find myself daydreaming of the warmer weather and missing wearing dresses because they're my most favorite hot weather attire. I need a couple of new ones but I wanted to share this one I've come across. It is one of the most beautiful dresses I've ever seen. I would wear it every single day! Sadly it's not even close to my size!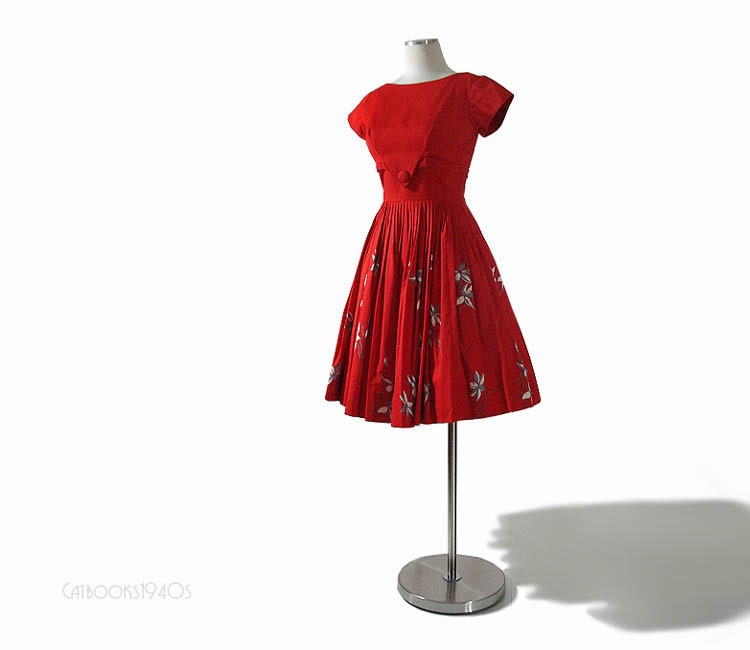 *Sigh* If it was only my size!
Isn't it beautiful!? I would wear it 24/7. Grilling, gardening, cleaning, grocery shopping, going out. It's from a team mates shop and I've been eyeing it for a long time. Knowing I will never ever get down to the size needed to wear it anytime soon I thought I would at least share it because it is so beautiful. Her shop is pretty amazing. For instance there's also this suit. It's a Yves St Laurent Le Smoking Suit. It's in amazing condition with an unbeatable price tag. I can only imagine the high she had when she found it. It would be like finding treasure.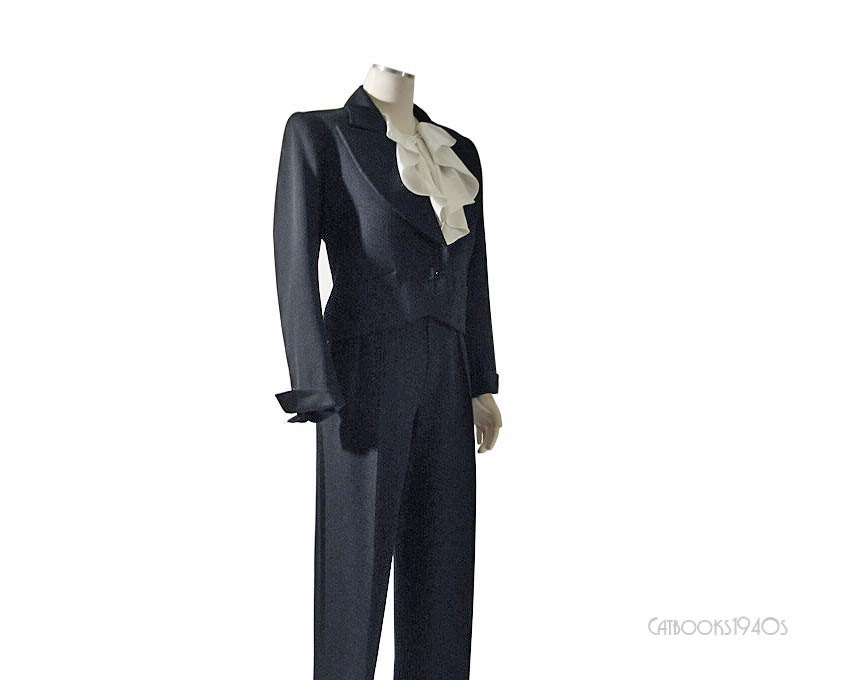 Seriously, how cool is this?
Her Etsy shop can be found here:
https://www.etsy.com/shop/Catbooks1940s?ref=l2-shop-info-name
. If you happen to buy that dress, I feel it's blog worthy. I would really read a blog that had anything to do with this dress. Not kidding.
Warmer weather also means sheering time and fiber washing time. I have some bags of raw fiber I've acquired over the colder months that I'm itching to see how they turn out. Right now they're sealed tight in bags and then placed in totes until I can get to them. Every time I walk into my room I see them taunting me. I've got a couple different colored natural wools and some alpaca. I'll admit I'm somewhat of an alpaca fiber hoarder and I really need to start using up some of it before it takes over.
Merino, angelina, alpaca, silk and corriedale rolags
In the meantime, I've been keeping myself busy wit a blending board I got almost a year ago. I haven't had a chance to use it so much until lately. I like that I can use up all my smaller bits of leftover fiber I've dyed without the expense of a drum carder. It's really relaxing to use it while watching TV or listening to music.
I've spun up both these sets of rolags already. I've got the green/orange ones listed in my shop (caption is clickable if you're curious of the result) and I hope to get the other ones listed. I love the bumpy woolen yarn these rolags make. I also love that I have another option to use my leftover fiber rather than just felting.
Well, I need to get some stuff done so I guess I'll leave you with that. Hopefully by the next time I blog I'll have a good part of my seeds started and not completely grown and harvested! ;D
*Sigh* That wasn't so hard. Now that I've got this checked off my to do list, I feel better.